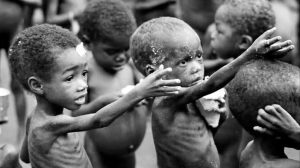 …Say Over 2m Children Risk Death In Nigeria
Members of the Jigawa State House of Assembly in collaboration with civil society organizations, CSOs, and media practitioners have called on stakeholders in the justice sector to marshal plan of action for the enforcement of access to nutrition as the rights of every child.
The stakeholders revealed that over 2 million children in Nigeria risk dearh as they are under the yoke of malnutrition.
In a communiqué issued at the end of a one-day retreat, in Kano, organised by the Civil Society Legislative Advocacy Centre, CISLAC, the lawmakers urged state Houses of Assembly across Nigeria to, as a matter of urgency and importance, promulgate and domesticate the rights of children to nutrition as provided for in the Universal Human Rights Declaration.
The member representing Birnin Kudu state constituency, Hon Suraju Mohammed, who spoke on behalf of his colleagues, said section 3 of the Child Rights Act provides that every child has a right to physical, mental and spiritual health, adding that as such, the right to nutrition is the right of every Nigerian child.
He said that the gathering has made passionate appeal to legislators across the country to pass laws and resolutions that would end the threat posed by Severe Acute Malnutrition, SAM.
The Programme Coordinator of CISLAC, Chioma Blessing Kalu, opined that legislators would play a critical role in the fight against SAM, urging them to realise that they are key to the actualization of sustainable prevention and treatment of SAM in Nigeria.
She further explained that the menace would be curbed if lawmakers appropriate adequate funding towards fighting the disease.