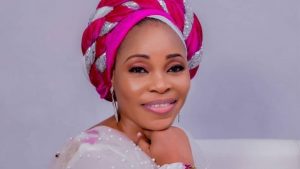 Just recently, a video made rounds on social media of a popular gospel singer, Tope Alabi, letting herself go and having a good time as she showed off her cool dance steps.
In the short clip, Alabi was seen doing the popular zanku and 'gbe body e' moves as she added a bit of 'galala' and other steps that are popular among the youths.
However, the Nigerian society is just like every other African society, where people who are highly placed in the society or looked up to as role models cannot be seen doing certain things in public or they will be highly criticized.
The video apparently left a bitter taste in the mouths of some people and they took to social media to criticise her.
One Adeniji Aderogba Oluwasayo on Facebook shared the video and wrote: "This is Evangelist Tope Alabi oo…What is this world turns to for God sake. The Tope Alabi I knew 10 years ago is totally different from this one. Hmmmm Ogun Esu gbe 'bon o!"
But the Nigerian gospel singer has defended herself following criticisms she received after her dancing 'Zanku' went viral. According to her, it was at her father's burial and she needed to worship God in her way.
"I needed that dance. It was at my father's burial and the praise was organised by some gospel artists to just worship God," she said.
"I needed to worship God, I just need to. It's not easy to bury your father. Some people die before their parents. As a spiritual person, you know you need that dance."
Popular OAP, Daddy Freeze also thinks Tope Alabi's dance video is repulsive and uncouth.
The media personality took to his Instagram page where he shared his views on her now-viral dance video. According to him, even he doesn't see anything wrong with her dancing but she looked like a pair of worms mating.
"I don't see this as worldly; there is nothing wrong with her dancing. However, in my honest opinion, the dance step is rather repulsive and it makes her look contorted and uncouth. African dance steps are graceful and elegant, this isn't. To me she looks like a pair of worms mating," he wrote.
Alabi who hails from Ogun State in Nigeria, is a famous gospel artist. She became famous for her soundtracks for Yoruba Nollywood movies. However, she later became a born again Christian and switched to gospel music. She is married with children.