The Universal Basic Education Commission, UBEC, has presented different sporting kits to the Lagos State Universal Basic Education Board, LASUBEB, for redistribution to 1,016 public primary schools across the 20 Local Government Education Authorities in Lagos State.
The donated sporting materials include table tennis boards, high jump and landing, Scrabble, Chess, sports jerseys, footballs, skipping ropes, amongst others.
Receiving the items on behalf of the Lagos State government, LASUBEB Chairman, Hon. Wahab Alawiye-King, assured the UBEC representative that the items would be used for the intended purpose, and would be handed over to the sports representatives of each of the benefiting schools.
At a brief presentation ceremony held within the premises of LASUBEB, in Maryland, Lagos, on Thursday, Alawiye-King informed that the donated items were part of the several interventions by UBEC aimed at promoting co-curricular activities among school pupils.
A permanent board member in charge of co-curricular activities, Mrs. Sherifat Abiodun Adedoyin, said that LASUBEB wants mental alertness for all the school children, saying that for children to assimilate well or even study, they must be mentally and physically fit.
Expressing the hope that when children are fit, there will be increase in their performance, she siad, "We want them to be active, strong and healthy; and sporting is one of the ways through which this can be achieved."
Mrs Adedoyin assured parents that the sporting activities will not interfere with normal academic activities of the pupils, insisting that Wednesdays have been alloted for extra curricular activities in primary schools across the state.
UBEC representative at the event, Alhaji Alabi Baba Asaju, maintained that education can be said to be total only if the cognitive (thinking) aspect of education is considered alongside the affective (emotions or feeling) as well as psychomotor (physical or kinesthetic).
Insisting that "all work and no play, makes Jack a dull boy," Alani Asajuthe maintained that the donated items would further promote sporting activities and professionalism among the pupils.
Also speaking, the Education Secretary of Ikeja Local Government and the Chairman of the Lagos State chapter of the National Association of Local Government Education Secretaries, Comrade Amosu Hakeem Abolore, said that encouragement of sporting activities in schools provides an alternative way of excelling for school pupils who may not be performing excellently well academically.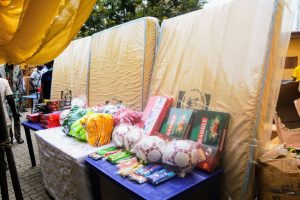 He stated that the type of games donated by UBEC, like Chess, Monopoly are intellectual games that will also enhance the thinking capacity, spelling ability of pupils and bring their ingenuity to bear.
He said, "To me, the provision of these games to primary school children is a form of intellectual empowerment, because it is going to help the school pupils a lot."