The Arole Oduduwa and the Ooni of Ife, His Royal Majesty, Ooni Adeyeye Enitan Ogunwusi, Ojaja II, has felicitated with prominent business mogul, Princess (Dr.) Toyin Kolade, on the occasion of her birthday anniversary.
Ooni Ogunwusi who sent his heartfelt greetings on Tuesday through a statement by his Director of Media and Public Affairs, Comrade Moses Olafare, described Princess Kolade as an icon of motherhood and a perfect African woman.
The natural traditional head of the Oduduwa race worldwide, who is scheduled to install Princess Kolade as the Iyalaje Oodua, this weekend, explained that the Ijesa-born woman has countless enviable human qualities that should be emulated by all.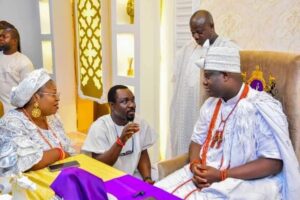 The Arole Oduduwa said, "Princess Kolade is a cool-headed cultured descendant of Oduduw, who established herself, from the ordinary status of a petty trader on the streets of Ilesa, to a celebrated international entrepreneur today.
"Among other virtues, Princess Kolade's nature of assisting the poor, disabled and other vulnerable members of our society through giving is iconic and worth celebrating for others to emulate.
"In the House of Oduduwa, she is a special daughter, who has an unequalled respect for the traditional institution, festivals and the prestigious Yoruba culture in general. These are the basis upon her selection and forthcoming installation as Iyalaje of the entire Oduduwa race worldwide.
"On this great day of her birthday, I wish her a happy birthday and a healthy long life filled with prosperity."