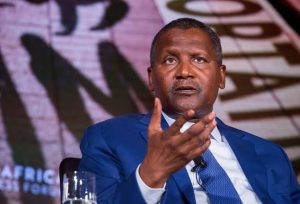 By Owolola Adebola
Miners in Lagos, whose mining activities were disrupted by the construction of
Dangote refinery are now demanding for a compensation of N500 million from the
Dangote Group, to compensate for their losses.
Sholaj Global Resources and its associates, through their lawyers, Destiny Obum Takon & Company, are asking for the sum for "the permanent loss of use of the area of mining concession" and application of its mining lease granted by the Federal Government.
The miners alleged that they are the holders of mining license No 21777, duly issued by the Mining Cadastre Office of the Federal Ministry of Mines and Steel Development, pursuant to the Mineral and Mining Act of 2007 and over land area of 32100HA, particularly situated at and comprising the Onode Eyin Osa and surrounding communities along the Lagos/Epe Expressway in the Epe Local Government area of Lagos State.
It was further alleged that since October 2018, mining operations in the entire area of mining concession had to be stopped because of Dangote Group's ongoing pipe laying activities in the area, which have since made it impossible for them to gain entry to their sites, due to heavy duty trucks used for mining operations, which might occasion damage to the pipes and there are no alternative routes through which they can have access to their area of operation.
The miners also accused Dangote Group of not giving them prior notice before commencing the pipe laying activities and that this had forced them to default on obligations to supply laterite, which were pending at the time, to several clients; and for which demands are being made against them for payment of resultant damages.
Dangote Group was accused of "knowingly" laying pipes right at the point of entry to their entire area of mining concession, which prevented them from gaining entry to their mining sites, as doing so would invariably occasion damage to the pipes.
The miners further reminded Dangote Group that the Mineral and Mining Act and their concessional rights over the area of mining take priority to whatever grant Dangote Group has to use the same area.
When contacted, Dangite Group's spokesman, Mr. Tony Chiejina, said, "Where were they when we were dealing with the issue of compensation? If they want to go to court, they can go to court!"