…Engages Students Through Teaching Via Radio, Television
Lagos State Commissioner for Education, Mrs. Folasade Adefisayo, has said that the state government is in talks with First Bank of Nigeria Limited and private sector organisations to provide one million digital devices to aid the teaching of students in the state.
Mrs Adefisoye disclosed this while speaking at the inter-ministerial media briefing held at the JJT Park, Alausa,Ikeja on Thursday, adding that the state government is also exploring the option of online classes for pupils across schools in Lagos to prevent a disruption of the ongoing academic session.
She said that discussions are in top gear with the bank, as well as private education consultancy firms, to teach students who are currently at home and prepare them for various examinations, including the West African Senior School Certificate Examinations, WASSCE.
She said, "We have been exploring the option of moving our students to e-learning and we are cognisant of the fact that our pupils may have or may not have access to digital devices to go on the e-learning platform. Therefore, we've entered into a very exciting collaboration with First Bank to provide a million devices for students."
Explainig further, she said that the government is "working with a technology firm that will provide the devices, which has Nigerian curriculum, tests and quizzes on them. I am also glad to announce that MTN has given us airtime on these devices. First Bank has set the ball rolling with 20,000 pieces. EdFin Microfinace Bank has also given us devices for our teachers and we are open to other private firms that may want to support this initiative. Lagos State government will be funding part of the project."
The commissioner averred that the  government leveraged on mass media to deliver lessons to students at home since the pandemic, disclosing that the method commenced two weeks ago with Senior Secondary pupils who will be taking the WASSCE.
She disclosed that 9 general subjects were being taught at the moment through interaction between teachers and their pupils via live programmes on television and radio, adding that each week's lessons usually end with a panel session where the pupils ask questions.
She added, "Last Friday, we received a thousand responses on a WhatsApp number dedicated to our panel of discussion. Apart from this, we have started classes for our pupils in Junior Secondary classes. This is being taken on Naija FM 102.7, and we are working in conjunction with South Saharan Social Development Organisation. They have given us their materials and our teachers have streamlined the materials with our own curriculum."
She also revealed that Eko FM 107.5 also airs local language programmes such as "Kokoka" and "Labe Igi Orombo" for primary school students.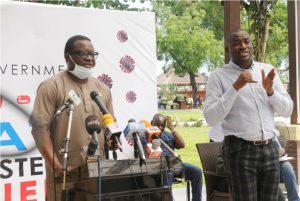 On his part, the Commissioner for Youth and Social Development, Mr. Segun Dawodu, disclosed that all youth development activities had been postponed indefinitely, following Governor Babajide Sanwo-Olu's directive on social distancing.
Noting that officials have been visiting youth rehabilitation centres tonsensitise the inmates on precautionary tips to stop the spread of COVID-19, the commissioner said that movement was also restricted in and out of the various neighbourhood parks.
He said, "We have restricted movement of people into our rehabilitation centres and we are in partnership with the Ministry of Agriculture to constantly make relief materials available to those in the centres. They are not lacking anything at the moment but we take measures to ensure their welfare is attended to in this period of emergency."
Dawodu used the opportunity of the briefing to advise parents to use the opportunity of the lockdown to sensitise their wards on guidelines issued to stop the spread of the pandemic and cautioned parents against abusing their children, saying the lockdown will not stop the government from protecting the rights of children.
The Commissioner for Home Affairs, Prince Anofiu Elegushi, also gave a report of his ministry, giving an overview of the interactive sessions held with Christian and Muslim religious leaders to ensure their members adhere strictly to the directives handed down by the Ministry of Health to prevent an increase of Coronavirus.
While praising the religious leaders for supporting the Lagos State government, Elegushi pointed out that at one of their meetings, there was a general consensus among the clergymen and clerics that gatherings of any kind should be suspended in worship places.
He said, "The only area, where we had a problem, was a mosque in Agege where the worshippers violated the order, and the place was shut down as directed by Governor Sanwo-Olu. Aside from that incident, we have received cooperation from all religious organisations."
The Special Adviser to Governor Sanwo-Olu on Civic Engagement, Princess Aderemi Adebowale, while speaking on the expectations of the state government from citizens, asserted that residents have a responsibility of complying with the directives given to stem the spread of COVID-19.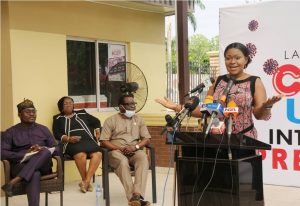 She added that her office has been engaging in community sensitisation, advocacy and public enlightenment, to battle COVID-19 to a standstill.
She noted that it has been observed that some people tend to wear gloves as they move around,without disposing the item after a single-use, saying, however, that such practice should be discouraged, because the unchanged gloves could contaminate other persons who come in contact with the dirty hand gloves.
She further advised Lagos residents to go to the Lagos State Resident Registration Authority, LASRRA, to register, "when the lockdown is over, because that is one of the ways you can benefit from the dividends of the government."