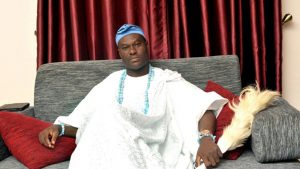 The Ooni of Ife, His Imperial Majesty, Ooni of Ife, Oba Adeyeye Ogunwusi, has called on Nigerians, especially people of Yoruba ethnic stock, to show genuine concern for humanity by assisting the poor.
According to a statement signed by the Director of Media, Ooni's Palace, Moses Olafare, Oba Ogunwusi made the plea while receiving a joint delegation of Jack-Rich Special Support Initiative, Belema Oil J.V and Belema Aid & Foundation, led by the wife of founder of the groups, Mrs. Elizabeth Jack Rich, on a courtesy visit to the ancient palace.
While lauding the Jack Rich family for helping individuals through their Jack-Rich Special Support Initiative, Belema Oil, as well as Belema Aid & Foundation, Oba Ogunwusi described Mr Tein TS Jack Rich as a down to earth detribalized Nigerian philanthropist.
The revered monarch said, "My dear daughter, your husband is a detribalized Nigerian philanthropist, who has led these wonderful organizations to do several projects in the South South, South East and in the Northern parts of Nigeria. I want you to also make the South-West your next destination for philanthropic projects.
"I am so happy to have you and your team here. We all must be concerned about the well being of our neighbours, let us emulate the kind gesture of the lovely Jack Rich's family, whose investment in human development and capacity building are so incredibly massive.
"They have executed several projects towards making the world a better place for all and they are still working on many others. They appreciate nature, they value culture and I am so happy to host the wife, who is a daughter of Oduduwa from Ondo State."
Earlier, Mrs Jack Rich expressed her gratitude to the Ooni, describing him as her respected father.