By Inusa Ndahi, Maiduguri
The governor of Borno State, Prof Babagana Umara Zulum, has pledged to reopen more displaced communities to accelerate the reviving of the economy tattered by over one decade Boko Haram atrocities in the state.
Recall that over one million internally displaced persons, IDPs, have been relocated to their various ancestral communities over the last four years by the present administration.
Taking the second-term oath of office on Monday, May 29, Zulum also announced plans to recruit 5,000 teachers, 1,500 health workers and establish a microfinance in each of the 27 local government areas of the state.
He said, "I am always happy whenever I visit Baga, Damasak, Kala Balge, Monguno, Gwoza, Bama, Damboa, Askira, Banki, Baga, Gamboru, Dikwa, Ngoshe, Kirawa and all other liberated communities across Borno State.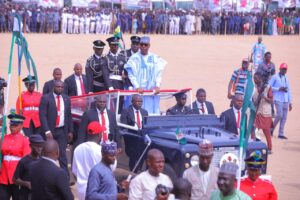 "We intend to consolidate on our Reconstruction, Rehabilitation and Resettlement, RRR, efforts by the resettling of Abadam, Malumfatori, Gudumbali, Kareto, Ashigashiya, Wala, Yamteke, Modube, Bita, Dalwa, Sandiya, Kumshe, Gulumba, Gajibo, Logumane, Kala, Wumbi, Karnowa, Mile-Forty, Kekeno, Kumowon, Mbuta, Koshebe, Maiwa, Kirenuwa, Marte, Ala, Kaje, Gashigar, Asaa amongst others.
"We also plan to close greater percentage of IDP camps in all the 27 oval government areas and resettle them in a dignified manner in collaboration with our development partners and international communities."
Continuing Zulum said, "Our vision is to open more pathways to progress for the people of Borno State by opening up the rural areas, bringing services closer to the people, more especially setting up 27 micro finance banks to ensure financial inclusion of our people, setting up 27 ICT centres in the state."
Speaking on educational development, Zulum stressed, "We will establish six centres of excellence to harness potentials from less priviledge children by providing an enabling environment for them to full realise their potentials, construct additional secondary and primary schools and as well rehabilitate 100 schools, recruit additional 5,000 teachers and ensure adequate resources for education."
Speaking on healthcare development, Zulum announced, "We will recruit additional 1,500 health workers, construct orthopedic hospital in Maiduguri, eye hospital and a dental unit, one each in Northern and Southern Borno and build two Schools of Nursing, one each in Southern and Northern Borno for training of our upcoming nurses and in our effort to adequately provide human resources for the health sector."
Shortly after the governor's second-term inauguration, the members of the Senior Executive Course 37 of the National Institute for Policy and Strategic Studies, who were in the state to witness the occasion, in a courtesy call, vowed to support Zulum's administration to accelerate the restoration of the state to its glorious past.
Their spokesman, Rear Admiral Akano Adewole, said, "As our course mate, we, the members of the NIPSS are solidly behind you in your efforts to restore Borno to its glorious past."
They however congratulated the governor for executing over 700 capital projects in his first tenure.