Former President, Chief Olusegun Aremu Obasanjo, GCFR, on Thursday did a candid appraisal of the tenure of the outgoing Vice Chancellor, VC, of the Federal University of Agriculture, Abeokuta, FUNAAB, Prof. Felix Kolawole Salako, and summed it up with a declarative verdict; "You have managed FUNAAB successfully."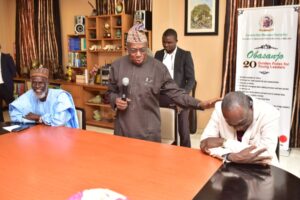 Chief Obasanjo thumbed up for Prof. Salako, whose tenure is successfully tilting and inching to an end on October 31, few days' time, when the VC led the Alhaji Umar Ahmed-led new Governing Council of the university on a maiden familiarization visit to him at his Olusegun Obasanjo Presidential Library, OOPL, Abeokuta, the Ogun State capital.
Seated in between the new Pro-Chancellor and the outgoing VC, Chief Obasanjo, while reacting to the tenure of office of Prof Salako, declared, "Now that you have managed FUNAAB successfully, may be I can now make you a farmer."
The renowned farmer and global elder statesman continued, "We've had some good Vice Chancellors and we've also had uumh too…but, Prof. Salako has done well."
Speaking further, the former helmsman of the nation lauded the mandatory five-year tenure of office allotted to Vice Chancellors, saying that it has enhanced stability and succession plan in the ivory towers.
Dissecting FUNAAB since inception, Chief Obasanjo said, "This university that I'm very close to has done a lot in achieving the purpose for which it was set up."
He specifically pointed out, "I am directly and indirectly a beneficiary of your products in terms of your graduates, who are doing very well in core agriculture and agric business or what have you, as well as your agricultural produces."
Chief Obasanjo explained that "the point I'm driving at is the importance of Universities of Agriculture as the centre point of national development" through wealth creation and employment generation, among others.
The former President charged agriculture-based universities and relevant stake holders to integrate and leverage on agricbusiness, in order to maximize and fully utilize the value chains in agriculture.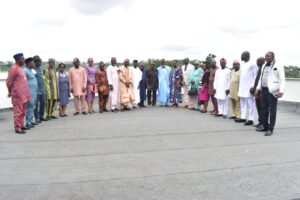 Earlier, while receiving the new Pro-Chancellor and Chairman of Governing Council, Alhaji Umar Ahmed and members of the council, Chief Obasanjo warmly welcomed them to Abeokuta, Ogun State; his Presidential Library; and to FUNAAB, assuring of his support and cooperation and wishing the council mission accomplishment.
He also welcomed the VC, saying, "I think I can now address you as outgoing Vice Chancellor."
Earlier in his short introductory remarks, Prof. Salako stated that "I'm happy to be here as outgoing Vice Chancellor, to introduce the newly inaugurated Governing Council to you, sir."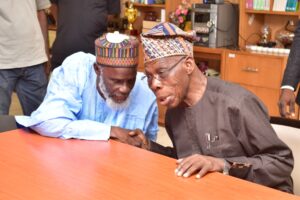 Prof. Salako recalled that the tenure of the immediate past Dr. Aboki Zhawa-led Governing Council ended in May 2021.
He stressed that between May 2021 and September 2022, the university was without Governing Council, thereby raising concerns, considering the importance roles and responsibilities of the Governing Council; moreso that the end of his tenure as Vice Chancellor is around the corner.
He expressed joy that the Federal Government eventually intervened with the inauguration of the new Governing Council on September 8, thus prompting the need to introduce and present the Chairman and members to the former President.
Addressing Chief Obasanjo, the Pro-Chancellor and Chairman Governing Council, Alhaji Ahmed, thanked him for accepting to receive him and his members.
He solicited for his "fatherly advise and support, as we carry on our assignment."