Names of 200 youths from five local government areas of Ose, Akoko North Ease, Akoko North West, Akoko South East and Akoko South West of Ondo State, who are beneficiaries of the Ade Adeogun Foundation's scholarship scheme, to study at the Upland College of Education, Ipesi Akoko in Ondo State, have been released by the College.
The scholarship scheme, according to a statement signed by the Special Assistant to Hon Ade Adeogun, the member representing Akoko South/West federal constituency at the House of Representatives, Abire Sunday Olugbenga, is in line with the mandate of the Ade Adeogun Foundation, AAF, "to educate our teeming youth population as well as increase opportunities for indigent young people whose chances at life have been naturally reduced."
The scheme, which is a joint partnership between Ade Adeogun Foundation, AAF, and Upland College of Education, Ipesi Akoko, is aimed at training 200 hundred youths in a three-year-tuition-free Nigerian Certificate in Education, NCE, program.
Abire added that the collaboration between AAF and Upland College of Education is aimed at "encouraging private investors, who have shown uncommon courage in investing their private resources in our fatherland to draw social and economic attention to our land," saying that the partnership will be a continuous one wherever such catalyst for development is spotted.
He said, "We believe that there is no better service than placing our young minds on a pedestal where they can compete favorably with their counterparts all over the world, through quality education that might have been denied them as a result of lack."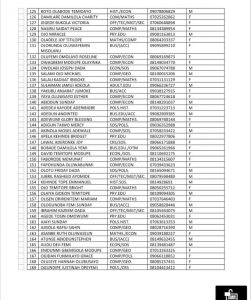 Specially congratulating the three top scorers of 82 per cent in the scholarship examination, Akanbi Josephine Folayemi, from Oka Akoko in Akoko South West local Government; John GloryIyanuOluwa, from Ikare Akoko in Akoko North West Local Government and Solomon Awolowo Samuel, from Ipesi Akoko in Akoko South East Local Government, the AAF "implored all the beneficiaries of the scholarship scheme to buckle up for the task ahead in order to excel in their studies, because they cannot afford to betray the hope we repose in them."
Meanwhile, according to Abire, the students are expected to pay for their acceptance fee of N5,000, as soon as they get their admission letters.
The statement added, "In line with the efforts of the Federal Covernment to contain the Coronavirus pandemic, Upland College of Education will ensure that a COVID-19 isolation centre is put in place before resumption. The date of resumption will be communicated to all the beneficiaries."
While extending congratulations to the successful beneficiaries, the AAF wish them a successful stay at Upland College of Education, Ipesi Akoko; praying God Almighty to protect them and make them special blessings to the land.