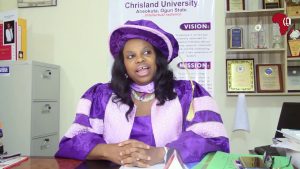 By Femi Oyeweso, Abeokuta
Amidst the hues and cries generated by the spread of the new epidemic from China, a Professor of Pharmaceutical Chemistry, Chinedum Peace Babalola, on Wednesday, called on the Federal Government to strive towards moving from diagnosing the dreaded coronal virus, Lassafever as well as other viral diseases to finding curative drugs that will immunise her citizens against being infected.
Babalola, who is the immediate past and first female DEAN, Faculty of Pharmacy at the University of Ibadan, said finding curative drugs for the viral infections in Nigeria becomes crucial in order for the country not be caught of guards.
Babalola, the current Vice Chancellor of Chrisland University, Abeokuta, made this known yesterday in Abeokuta, the Ogun State capital while briefing journalists about her latest achievement which earned her the prestigious and much coveted African Union Kwame Nkrumah Award For Scientific Excellence Regional Award 2019, bestowed on her on Monday 10th of February, 2020 in faraway Addis Ababa, Ethiopia.
The first female Pharmaceutical Professor in Nigeria explained that most drugs consumed in Nigeria and the rest of African countries were developed with Caucasians in mind, hence we experienced poor performance of drugs and other unpleasant reactions.
Admitting that it usually takes a maximum of 15 years to evolve a curative drugs for any disease, Babalola declared that the Nigerian government must not wait till the period of emergency, but be ready "at all the time" to provide solutions to infectious diseases, notwithstanding that the financial implication is gargantuan.
Babalola, whose research interests has always centred on drug analysis, pharmacogenetic and bioethics, emphatically declared that it usually takes between $1 billion to $2 billion to discover a remedy for an ailment such as the corona virus.
While calling on the Federal Government to inject more money, strengthen and empower research agencies such as the Nigeria Institute for Pharmaceutical Research; the Nigeria Institute for Medical Researches as well as the Nigeria Disease Control among others, to enable them tackle new health emergencies, she said, "Nigeria needs to inject money to ensure that scientists are working round the clock, testing different viruses so that if one comes up, we can easily detect it, to start with.
"For you to discover drugs and vaccines; it is not bread and butter. Many times, researches have been going on for years. To produce one medicine, it can take us 10 to 15 years. Although, we now have processes that can reduce drug discovery time.
"If the Federal Government has promised N36 million to reward anyone that can come up with vaccine for the cure of corona virus, for me, that may help. It all depends on the checks and balances or they can inject that into a laboratory to help us to detect and diagnose a disease.
"But we should go beyond detection, as a pharmaceutical scientist, when you study the genetics of a disease, when you study the properties of a particular disease or disease agent, we should use it and target medicines, molecules that can also kill it or cure it.
"We should go beyond diagnoses, we should also empower centres to be able to discover, design and develop drugs. These things take time, but they should find out more centres in different geo – political zones and devote more resources. Some of these centres can be set up in both private and public institutions. We should not wait until emergencies come, there should be readiness every time.
"Nigeria is not lacking in platforms to work, it is just empowerment and commitment by government and the private sector. We should show more commitment and we should spend more."