fatal crash, claiming not less than 18 lives and scored injured, involving a white coloured Mitsubishi Canter truck with registration number XE 331 MKA, overloaded with passengers travelling from Sokoto occurred at the Omi River, Ajegunle bridge along the Ibadan-Ijebu-Ode highway in the early hours of Tiesday, January 28.
In a statement issued by the Public Education Officer of the Ogun State command of the Federal Road Safety Corps, FRSC, Superintendent Route Commander Florence Okpe, the sector commander, Ogun State FRSC, Clement Oladele, said rescue operations by the Ijebu-Ode FRSC Unit Commander and the FRSC Rescue Operators from the Ago-Iwoye outpost command of the Corps were quickly mobilised to the scene of the accident.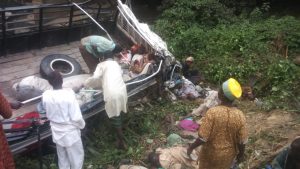 Meanwhile, 15 corpses of male adult passengers out of the over 50 passengers crammed into the mini-truck have been recovered from under the bridge in the dried-up Omi river
Thirty-eight other passengers who sustained varying degrees of injuries have been rescued and evacuated to the state General Hospital, Ijebu-Ode for medical attention.
Corpses of the dead victims of the crash have also been evacuated to Sabo, in Ijebu-Ode, where the Sarkin Hausawa is making arrangements with the police for mass burial of the dead victims.
According to FRSC, the probable cause of the accident is fatigue, as the vehicles veered off the road on the narrow Omo bridge river, which is bereft of any safety railings and crashed into the dried-up Omi river, along Ibadan-Ijebu-Ode road. Rescue operation was made easier because the river had dried up.
While commiserating with the victims of the crash, Oladele advised passengers from boarding goods-only vehicles, which are not designed for transporting passengers, but goods only, adding that such goods-only trucks open compartment without comfortable seats or with mere wooden seats are unsuitable for passengers' safety.
He also advised families of the victims to contact the Ago-Iwoye or Ijubu-Ode sectors of the Ogun FRSC for details of the crash.