By Nsan Ndoma-Neji, Calabar
Following reported cases of violence and battery of women by their spouses, which occur at regular intervals in our immediate communities, the European Union, EU and the United Nations, UN, Spotlight Initiative have begun the training of 80 journalists on the Reportage of issues relating to violence against women and the girl-child in Cross River State.
Facilitated by Spotlight Initiative Network of Journalists on Ethical Reporting, Media Advocacy and Solutions Journalism, the training would help media men sharpen their skills in the reportage of gender sensitive issues to join hands in the fight to end discrimination and violence against women and girls in the country.
Brainstorming yesterday with participants in a media round table in Calabar, the Cross River State capital, the South South zone of Nigeria Spotlight Initiative Communication Coordinator, Khadijah Ibrahim Nuhu, raised the alarm over unreported cases of violence against women and girls in the state and urged journalists in the state to be proactive in the reportage of cases of violence against women, which according to her, if not reported may assume alarming rate.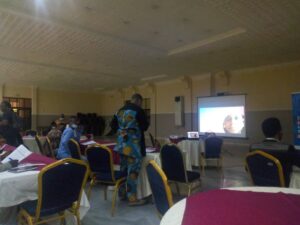 Speaking on the issue of Universal Human Rights, Nuhu said, "Women and girls have all the rights as articulated in universal human right plus the right to be protected from harm, especially for girls as young people."
She averred that if cases of women battery and girl-child molestation are not brought to the fore by media practitioners, who the entire society relies on as mirror to the society, so that perpetrators of this crime are brought to book, women and girls were bound to remained perpetually in bondage and treated as if they were animal by their males counterparts, who ordinarily were supposed to be brought to question to serve as a deterrent to others, the crime would persist.
The communication officer maintained that women and girls were no second class citizens, but citizens who should be accorded equal rights and opportunities, even in occupation of public offices.
She enumerated the objectives of the training to include increase in the participation of 81 media network members in advocacy and solutions journalism, to increase participants' knowledge on ethical reporting and to engage participants on gender inequality discourse and their role in impact.
Others include: to mobilise at the country level and to have effective media engagement, through invitations such as this newsletters and support to improve on our existing knowledge on ethical reporting, to engage in gender inequality and to increase our capacity on journalism.
She added that under the objectives, "you are to deal more on advocacy journalism than solution journalism.
She lauded the EU/UN Spotlight Initiative for supporting the 17 sustainable development goals. She revealed that the benefiting states are: FCT, Lagos, Cross River and Ebonyi states, calling on participants to at all time strive to give a voice to survivors whenever they are doing reportage.
In his remarks, the Child Protection Specialist, UNICEF, Mr Victor Atuchukwu, stated that six out of every ten children experienced some form of violence.
In is presentation tagged: "Overview of Violence Against Women and Girls in Nigeria/Cross River State, Policies, Interventions, and Trends, Atuchukwu stated that one in two have experienced physical violence, stressing that this also applies to one out of six boys with issues of sexual/emotional violence."
He maintained that 50 percent of girls experienced physical/emotional violence, adding that "80 per cent experienced physical violence, with 70 per cent sexual violence and 50 per cent experienced emotional violence.
He regretted that the perpetrators are living within us, either as parents or adult relative, adults in neighborhood or romantic partner, friends, classmate and stranger.