The Executive Chairman, Oyo State Universal Basic Education Board, Dr. Nureni Adeniran has expressed satisfaction with the level of compliance to Covid-19 rules by schools in Ogbomosho.
During a tour of schools in Ogbomoso on Tuesday, Dr. Adeniran noted that the compliance level at Ogbomoso was highly impressive.
The tour is a follow up to the statewide compliance monitoring tour he began yesterday, in Ibadan.
"Impressively, at Ogbomoso, most schools complied with the COVID-19 regulations for public schools," he said.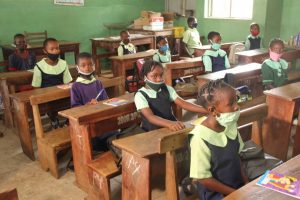 Schools visited include: Mosunmaje Methodist Basic School, Mosunmade, Ogooluwa Local Government Area; Baptist Basic School, Ajaawa, Ogbomoso; Methodist Primary Schools 1,2 and 3, Arowomole, Ogbomoso; Ijeru Baptist Day School, Ogbomoso; Osupa Baptist Day School, Ogbomoso; ADS Basic School, Oke-Ado, Akintola, Ogbomoso; St. Agnes RCM, Iluju, Oriire Local Government Area; Community Basic School, Ikose, Ogbomoso North local Government Area; and St. Paul's Primary School, Iresapa, Surulere Local Government Area.