As part of their primary role in ensuring that every child has access to quality basic education in their states, the South West State Universal Basic Education Board Chairmen held its quarterly meeting at the Lagos State Universal Basic Education Board, LASUBEB, in Maryland, Ikeja on Wednesday, to discuss areas of common interest and chart a new course for the basic education sector within the region.
The meeting had in attendance SUBEB chairmen from five states, namely: Osun, Oyo, Ekiti, Ogun and Lagos.
Issues at the front burner of the meeting bothered on improving basic education, proactively addressing issues on insecurity and also to cushion the alarming indices of out of school children in the South West zone.
LASUBEB chairman, Hon. Wahab Alawiye-King, disclosed that the essence of the quarterly meeting is to come up with a collaborative approach, geared towards ensuring that every child has an unfettered access to education in the zone.
Alawiye-King added that the modest ways to implement universal basic education is through innovative leadership and community mobilization.
Chairman of OyoSUBEB, Dr Nureni Adeniran, who also doubles as the Dean of South West SUBEB chairmen, explained that the purpose of the meeting is for the states to work harmoniously to develop and galvanize support for basic education in the zones; and to unify its demands at the federal level.
He stated further that as part of the modalities to guard the pupils against insurgency and also protect school facilities against vandalism and theft, the South West SUBEBB will aggressively incorporate perimeter fencing in school buildings and also link up with security agencies to ensure that lives and property are secured in schools.
Calling on private organizations to support and promote education at the foundation level, Adeniran said, "The South West has always been the pacesetter in basic education among other zones and we cannot lose that position to any other zone."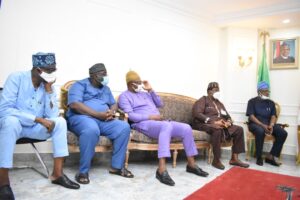 The team later paid a courtesy call on the Deputy Governor of Lagos State, Dr. Kadri Hamzat, to intimate him of the outcome of their deliberation.
Addressing the Deputy Governor, Dr. Adeniran commended the Lagos State government for its giant strides in basic education, particularly, the EKOEXCEL initiative, as well as the exceptional performances of Lagos pupils at various national and international competitions.