The Lagos State Universal Basic Education Board, LASUBEB, in partnership with a non-governmental organization, Human Development Initiative, HDI, organized a stakeholders forum tagged 'A Day Out With Lagos SUBEB,' held at LASUBEB's Multi-Purpose Hall, Maryland, Ikeja, Lagos.
The engagement, which was attended by traditional rulers, community leaders, community-based organization, Cabos, school-based management committees, Nigerian Union of Teachers, NUT, civil society organizations, CSOs, and members of the press was held to engage LASUBEB on its activities, achievements and educational transformation plan for basic education in the state.
The Executive Chairman of LASUBEB, Hon.Wahab Alawiye-King, said at the forum that the board has been able to transform the basic education sector with the EKOEXCEL initiative of Governor Babajide Sanwo-Olu, by infusing technology in the pedagogy and digitalization of processes.
Alawiye-King added that LASUBEB is working assiduously to improve teacher's skills through capacity building to meet the current trends of education globally, and also improve learning outcomes.
Alawiye-King disclosed that the board had introduced a remote blended learning approach, comprising of Interactive Radio Instruction, a television lesson – Classroom In Your Home; and take home quizzes, to bridge the learning loss as a result of the COVID-19 pandemic.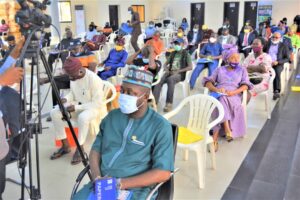 While seeking for the collaboration of the organized private sector, OPS, he stated that the board, in partnership with private organisations has provided back to school packages to over 12,000 out of school children to return to school, under the Project Zero Initiative of the board.
HDI Executive Director, Mrs Owasanoye, said that her foundation organized the stakeholders' engagement to promote transparency and accountability in the education system, adding that it is also to create awareness to the populace on the activities of the board and it achievements.
Applauding the present administration of the board for improving basic education in the state, Owasanoye noted that they should put in more efforts on infrastructures in public primary schools.