The Lagos State government in collaboration with the state Universal Basic Education Board, LASUBEB has begun training for primary school teachers on the integration of technological devices for instructional classroom delivery under the EKOEXCEL initiative.
The training is being held at CMS Primary Schools Complex, Bariga, and Vetland Primary Schools Complex, Agege, with over 2,000 more primary school teachers expected to be trained in this phase, bringing a total number of EKOEXCEL Schools to 500.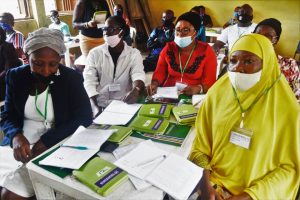 Recall that EKOEXCEL, which means Excellence in Child Education and Learning, is an educational transformation initiative of Governor Babajide Sanwo-Olu, aimed at bridging the gap in quality education delivery through the use of technological devices, such as teaching tablets and smartphones, in public primary school pedagogy.
Speaking at the training venue which commenced on September 14, 2020, LASUBEB Executive Chairman, Hon. Wahab Alawiye-King, said that the Lagos State government has been anticipatory and proactive before the interruption of COVID-19, by including technology in the basic education system.
He explained that the training would not only empower and develop the participating teachers and headteachers in their careers, but also equip them to adapt to the new system and respond to challenges that have emerged in the education sector as a result of the pandemic.
Noting that as part of efforts towards embracing the new realities, the Board has introduced a new approach, which is a blended, integrated, remote, and distance learning,Alawiye-King said, "It has been established that learning and teaching can happen off-sight."
While addressing the classroom and school managers, he expressed that the new phenomenon, EKOEXCEL, will not only transform teaching and learning in the classroom, but change some classroom activities. He, therefore, charged them to conform to the new normal in basic education.