The two-week second phase training of public primary school teachers on the Lagos State Excellence in Child Education and Learning, EKOEXCEL, which held in two centres across the state and convicted by the Lagos State Universal Basic Education Board, LASUBEB, has been completed.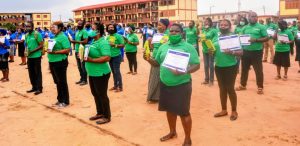 The two-week training, which had 2,400 headteachers and teachers as participants included technological instruction classroom delivery.
In his address, the Executive Chairman of LASUBEB, Hon. Wahab Alawiye-King, congratulated the participating teachers and headteachers for actively taking part in the laudable tech-in-education initiative of Governor Babajide Sanwo-Olu-led administration.
Imploring the headteachers to return to school with renewed energy and updated skills to make a positive difference in primary pedagogy and management, Alawiye-King also urged them to reflect the interesting, impactful, and insightful experience back in school by showing love, care, and concern to the pupils, who may be too young to understand what the new normal entails.
In the same vein, he advised the teachers to reinforce with renewed vibe and gusto for better and productive learning and teaching outcomes in the classroom.