…Combatants Threaten Another Round
By Wole Adedeji, Ilorin
At least, four people sustained serious injuries, as 10 Christaina schools, shut over the controversy trailing the use of hijab in mission-funded school, reopened yesterday, following the reopening of the schools by the Kwara State government.
The ugly development mainly took place at the Baptist Secondary School along Surulere Road, in the state capital.
Though the same was the story in the other remaining nine mission schools that could not open on Wednesday.
Permanent Secretary in the state Ministry of Education, Mrs. Mary Dupe Adeosun, had less than 15 hours earlier announced the reopening of the shut schools, but with a caveat that the controversial 'hijab' by Muslim female students must be worn.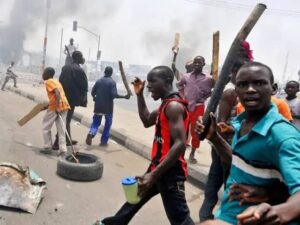 The fight continued till late in the afternoon on Wednesday, even with the presence of security agents drafted to the violent scene, who were unable to contain the fracas as at the time of filing this report.
Earlier, upon hearing of the mayhem at the Surulere Baptist School, other Christians in the metropolis had mobilized themselves to reinforce their fellow faithful, who were having a hot battle with Muslims.
Both sides were seen throwing dangerous missiles across the fence of the Baptist Church premises, where the Secondary School was located.
By the afternoon, hoodlums had taken over the fight on the side of the Muslim, not minding the volume of tear gas canisters thrown by the anti-riot policemen, before Christians said to be of other denominations joined apparently, as reinforcement.
There had been a lingering issue between Muslim communities in the state, particularly in Ilorin, the state capital insisting that their wards, who were in Christian schools, must among others, observe their prayers, the muslim way, have mosques in the mission schools, while female Muslim students must wear hijabs.
Early on Wednesday, Christians had positioned themselves inside their school premises, ready to disallow hijab wearing students to enter the schools, a development which ignited what later became bloody fights.
In the other schools, the protests by Christians to refuse hijab wearing was relatively peaceful, because aside the fact that the schools' gates were under lock and keys, Muslim students, particularly the females virtually stayed away.
The schools had been shut on the orders of Governor AbdulRahman AbdulRazaq, when the refusal of the schools to allow students wearing hijabs entry sparked pockets of fights in some Christian schools, allegedly occasioned by some Muslim youths, who were not related to the schools.
The closure if the schools had attracted negative disposition of the Christian communities in and outside of the state, who accused the government of bias and a disregard to the norm of allowing a status-quo-ante, because the matter was said to still be at the domain of Supreme Court of Nigeria.
Meanwhile, tensions remained heightened, while filing this report on Wednesday, as what happens in days and time to come remained foggy and the combatants on both sides were wildly posing to fight.