By Nsan Ndoma-Neji, Calabar
A non governmental organisation, NGO, Centre for Peace, Transparency and Accountability, yesterday in Calabar added another feather onto the cap of the University of Calabar Bursar, Mrs. Beatrice Igwe, for her outstanding contributions towards the development and growth of the institution since assumption of office.
The Executive Director of the organisation, Comrade Patrick Ogheneyero, while presenting a certificate of honor to the Busar, stated that the group is appreciating the Busar as a way to encourage her to do more, so as to take the institution to higher pedestal and called on others to emulate the virtues of the Busar.
He said, "The civil society has been watching you function in office and your good work is worthy of emulation.
"There is no hiding place for a golden fish hence you have scored not 80 but 90 percent.
"The certificate is a mark of recognition for service rendered to the great university which is evident in the execution of projects, clearing of backlog of debts and others, too numerous to mention."
Also speaking, Ogatrim Dominic, the president of Coalition of Civil Societies Organisations tasked the Bursar to sustain the good works.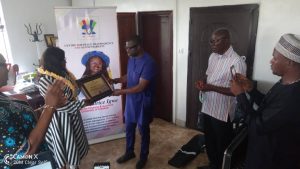 He said it's a rare privilege to be in his alma mater and honour one of the principal officers of the prestigious institution.
In a swift reaction to the encomiums showered on her, the Bursar thanked the organisation for recognising her contributions to the development of the university and honouring her.
She said there is hope for Nigeria and charged them to keep up the good work, while pledging to do her best for the nation and humanity at large.