The President of the Care People Foundation, a non-governmental organization that brings smiles to the less privileged with the provision of relief materials to them, Rev Tunde Tioluwani, has called on governments at both states and federal levels to show love to the needy, especially orphans and the physically challenged persons at this period of economic recession.
Speaking at the annual at the Annual National Carnival for the Disabled Persons and Less Privileged, held at the Care People Foundation Centre, Ibadan, Oyo State, Tioluwani said that governments should go beyond mere promises and bring up impact-oriented programmes to cushion the adverse effects of poverty on the lives of Nigerians, particularly the vulnerable.
He also challenged the well to do in the society to borrow a leaf from what the Care People Foundation is doing by assisting the less privilege people in the society.
Care People Foundation, through Tioluwani has been bringing succour to orphans and the physically challenged in the society since 1990.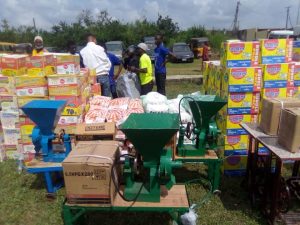 The cleric said that 2020 remained the worst year ever, considering the COVID-19 pandemic, which has wreaked havoc on the economy of the nation, adding tha, "as  a result of all these, we decided to mark  this year's celebration in low key, by not inviting thousands of people with disabilities as we used to do yearly, but rather invited their representatives to pick up their wheelchairs, sewing and grinding machines, bags of rice, cooked food and financial donations."
Over 50 orphanages and centres for people with disabilities were represented at the carnival, which featured music and dance, raffle draws and presentation of gifts.
Among the gifts showered on the less-privileged at the occasion are pepper grinding machines, sewing machines, wheel chairs, rice, Indomies, as well as cash donations.
Responding, one of the beneficiaries, Evangelist Olu Kayode, commended Rev. Tioluwani and his wife, Barrister Favour Tioluwani, for their philanthropic gesture, saying that he has been part of their good gesture for many years.
Another beneficiary, Judeo, who came from Vanguard Vocational Centre, Ibadan, said that the materials given to them will serve as a succour to him and other beneficiaries, adding that the foundation has been their source of joy over the years.