The Federal University of Agriculture, Abeokuta, FUNAAB, on Wednesday organised the first Reading Hour for selected secondary schools in Abeokuta at the residence of Nobel laureate, Prof Woke Soyinka.
The Reading Hour, themed 'Ari Forestage,' is organised by the FUNAAB to encourage reading culture among secondary school students in Ogun State.
Recall that Prof Soyinka had ceded a portion of his Ijegba Residence, containing his library and intellectual properties to FUNAAB.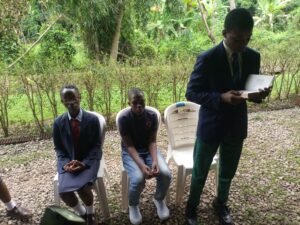 Welcoming guests and participants to the event, the FUNAAB Librarian, Prof. Feyinola Onifade, apologize for the late commencement of the programme due to logistics.
She explained that Prof Wole Soyinka handed a section of his Ijegba residence over to FUNAAB and because of the VC's creativity and love for the humanities, he approved the proposal to put the residence to use, which resulted in the programme Readig Hour to promote reading culture among students.
Also speaking, the VC also apologized for starting the programme late, even though participants also came late.
Participating schools include: Ark Bearers School, Abeokuta, led by the administrator, Akinbode Bunni Oluwaseun; FUNAAB International School, Abeokuta, led by the Principal, Isaac Ogunbunmi; Victorroti Private Secondary . School, Abeokuta, led by the school's literature teacher, Oyedele Josiah.
Prof Salako spoke glowingly of Prof Soyinka, appreciating his magnanimity in releasing his residence to FUNAAB for intellectual activities, insisting that this is the first of such intellectual programmed lined up for the Ijegba groove.
He told the students that he made up his mind to become a professor right from the secondary school and disuaded the students from the ongoing get-rich-syndrome that is prevalent among youths of today.
He challenged them that being rich is not about how much money one has, averring that today, he is rich; just Prof Soyinka is also rich as well.
The book selected for reading is Prof Soyinka's 'Trial of Brother Jero.'
The FUNAAB Librarian emphasised the importance of reading the book in the house of the author, telling the students that what Prof Soyinka wrote about in the book years back are actually happening in today's world, nay Nigeria.
Students from the three participating schools took the role of the main characters in the book: Brother Jero, Sobowale Benedict – FUNAAB International School; Chume, Nifemi Osundiya – Ark Bearers School; Old Prophet, Abdulazeez Farouk – Ark Bearers School; Trader, Moses Peculiar – FUNAAB International School; Challatans – Bushrat Mustapha – Victorroti School; and Amope, Ikeoluwa Omilabu – Victorroti Private School.
Highlight of the event was the presence of the Director-General of the International Institute of Tropical Agriculture, IITA, Ibadan, Dr. Saginga Nteranya and his entourage, who came all the way from Ibadan and the tour if the Ijegba Groove.