A member of the House of Representatives, representing Lagos Mainland federal constituency, Hon. Jide Jimoh, has appealed to the youths and other stakeholders in his constituency to maintain the peace and protect Lagos State assets in the aftermath of the crises occasioned by the #EndSARS protests.
Jimoh, made the plea at a high powered stakeholders' meeting with the youths, community leaders, traditional leaders, religious leaders, among other in Yaba Local Council Secretariat, in Lagos.
At the meeting were, Hon. Olawale Oshun, Opeluwa of Lagos, Chief Lateef Aderibigbe Ajose, Eletu of Otto and Mainland; Chief Pedro, Otunba Tayo Oyemade, Pa Soyode, former lawmaker; Hon. Oladele Adekanye, Mrs Nike Jones, Chairmen of Yaba Local Council Development Area, LCDA, and Mainland Local Government Area; Kayode Omiyale and Omolola Essien respectively, Sarki Hausawa, religious leaders, community leaders, youths, among others.
Hon Jimoh, a former chairman of Yaba LCDA, said protest is legitimate and indeed considered an integral part of its value, but the right to protest must not be allowed to infringe on the right of others or to endanger the lives and properties of other citizens, adding, that this is what the current protest has unfortunately metamorphosed into in his constituency and the entire Lagos State.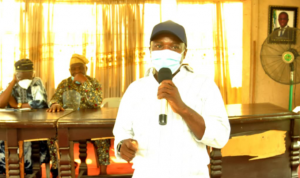 He siad, "If truly, you're a Lagosian, you will feel bad about what happened. They have done complete damage to the entire Lagos, Yoruba race and Nigeria."
Commending the police for prompt action to defend Lagosians, despite the violent attack on them, Hon Jimoh added, "I condemn the invasion of the Oba of Lagos' palace. If you see the havoc done in his palace, you will weep. We should thank God for not losing his life in that process, and it is God that make it happened.
"I really pity the governor of Lagos State, Babajide Sanwo-Olu, Lagosians and our National Leader, Asiwaju Bola Ahmed Tinubu, because these people have laboured for the development of this state and Nigeria. The destruction of Lagos assets caused us to weep."
On the new BRT Terminal and buses destroyed, the lawmaker said, "The government promised that a certain percentage of the staff will be from Lagos Mainland, which is not possible again due to the total wreckage of the terminal.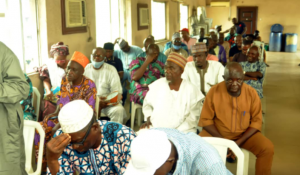 "We don't know the implication of what has happened in Lagos. How can we get N1 trillion to rebuild the place now? To get employment and other things for youths is now a big problem.
"These hoodlums must be identified, and the communities know them, but they will not voice out. Arms and ammunitions are everywhere now. If you think when Jide Jimoh is going they will challenge him, don't be surprise that any other persons will be challenged by these boys too on Lagos roads.
"If you don't know, everyone is now in the hand of the criminals in Lagos. If you do not want police now, you will prefer thugs.
"For me, I will never build or encourage thuggery, and I am not a friend to any and I will not pray to use any of them.
"Let's go back home and talk to our youths to always protect public assets. I commend Iwaya Community for defending their community when hoodlums planned an attack. If youths and the entire community stand, all the destruction we saw wouldn't have happened in Lagos."
He added that youths should continue to support the Lagos government as the process of rebuilding began.
Appealing to the youths to embrace dialogue in addressing any grievances, he discouraged the destruction of public and private assets, urging them to protect their communities against any attack by hoodlums.