The Lagos State Universal Basic Education Board, LASUBEB, has hosted a breakfast meeting with teachers who exhibited exceptional qualities during the last EKOEXCEL teachers' training exercise.
Explaining the rationale behind the hosting during the breakfast meeting with the Board, LASUBEB Executive Chairman, Hon. Wahab Alawiye-King, said that the selected teachers were celebrated for their courage, zeal and outstanding performance at the training.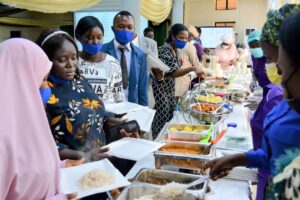 Alawiye-King noted that the rationale behind the special session with the Board is to celebrate and acknowledge outstanding teachers, to promote efficiency and effectiveness in the classroom, because, to whom much is given much is expected.
Alawiye-King charged the teachers to impart the pupils with the energy displayed during the training and also show them love as burden bearers to the pupils.