By Nsan Ndoma-Neji, Calabar
As part of ways of celebrating the Easter, Cross River State Governor Ben Ayade yesterday wined and dined with his security aides, Governor's Lodge workers/officials and also used the opportunity of the occasion to express appreciation to them for their dedication to duty.
At the event, the governor directed the distribution of chickens, classic Kisimie Instant Noodles to them.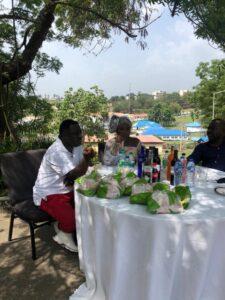 Displaying this magnanimity on Sunday during the Water celebration, Governor Ayade who displayed this magnanimity on Sunday during the Easter celebration, when the state Commissioner for Humanitarian and Social Welfare, Hon Blessing Egbara, and her team paid him a courtesy visit to express her appreciation to the governor for his kindness, after rounding off the distribution of Easter gift items to orphanage homes in Calabar and other less privileged people across the state, Ayade directed the commissioner to likewise distribute chickens and the classic Kisimie Instant noodles l, which is proudly produced in Cross River State to all the security personnel and aides, maintaining that it was his own way, at this time, of wishing the highly dedicated security aides and other workers a happy Easter celebration, a period which marks the ressurection of Jesus Christ over 2,000 years ago.
It was in the spirit of the celebration of the Easter season that Governor Ayade, in his usual kindness, decided to put smiles on the faces of Cross Riverians, as hundreds of cartons of frozen chicken from the Calachika Factory were distributed to various orphanage homes across the state.
Recall that Governor Ayade, had promised, in a press statement issued last week, to reach out to the less privileged in the state in celebration of Easter.
Responding to the governor's kind gesture, Hon Egbara stated that the gesture from His Excellency goes to show that puting smiles on the faces of his people is his greatest priority.