By Nsan Ndoma-Neji, Calabar
The Vice Chancellor, VC, of the Cross River State University of Technology, CRUTECH, Prof Augustine Angba, has warned newly admitted students not to involve themselves in examinations malpractice, stealing, cultism and other deviant behaviours that may drag the institution's good image to the mud.
Angba gave the warning while speaking at the institution's combined matriculation of newly admitted students into the university to pursue various academic for the programmes for the 2021/22 and 2022/23 sessions.
Advising the freshers to be of good behaviour, character and hardworking in their academic pursuits, the VC said, "Ensure to take your academic work seriously.
"Shun cultism, stealing, examination malpractice, all forms of deviant behaviours and other vices.
"Focus on why you are here and remember that the university certificate is awarded based on good personal character and learning.
"Set your priorities right from the onset. If you miss it now, it will be difficult to correct the missing link."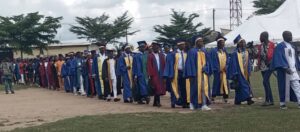 Prof. Angba averred that CRUTECH has concluded plans to implement the school policy of no fees, no examination; adding that the policy was still in force.
He added, "I further implore you to strictly adhere to the rules and regulations enshrined in the student's handbook, as this will help the university serve you better."
The VC stressed that under the scholarship scheme, which he initiated as tbe VC, he has introduced what is called the Vice Chancellor's Pet Scholarship Project, tagged 'Feed One, Train One Student,' to give assistance to exceptionally intelligent and indigent students as a way to encourage gifted and we'll behaved students of CRUTECH.
He enthused, "We offer scholarship to exptionally intelligent students, indigent students and students who are seen to possess good and outstanding character. You can earn yourself a scholarship from it."