By Nsan Ndoma-Neji, Calabar
Former Senate Leader Victor Ndoma-Egba has said that he wants to be buried close to the grave of his late wife, Amaka Ndoma-Egba, whenever he dies.
Ndoma-Egba made the assertion while fielding questions from journalists shortly after the funeral mass for his late wife, Amaka Ndoma-Egba, whose body was interred in a museleum erected by Ndoma-Egba, at Our Lady Queen of Peace Parish, Akparabong town, (Ndoma-Egba's village) in Ikom Local Government Area of Cross River State.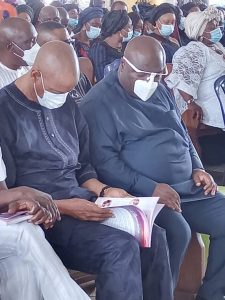 Describing his late wife as the pillar of his life and home builder, who stood by him at all times in almost all his personal endeavors, the former Chairman of the Niger Delta Development Commission, NDDC, stressed that Amaka was a home builder, who saw everyone as being equal.
He said, "In her house, she never called any one house girl, or discriminated against anyone. Everyone living in our house was equal. You hardly know who is a house girl and who is not. Everyone was equal."
Ndoma-Egba described his late wife as one who loves celebration, stressing that he and other family members would have to celebrate Amaka.
Earlier in his consolation speech, the senator representing Cross River Central senatorial district, Senator Sandy Onoh, said that this year had been a year of losses for the former Senate Leader, lamenting the several losses incurred by the former Senate Leader.
Onoh said, "This year had been a terrible year for Senator Victor Ndoma-Egba. First you lost your mother, your mother in-law, barbarians invaded your house and you also buried your wife."
He consoled Ndoma-Egba, asking him to take heart for God would certainly bring him happiness.
In his remarks, the Cross River State Deputy Governor, Prof. Ivara Esu, stated that God has a time for all mortals to die, adding that even if Amaka had not gone for the trip, may be she would have still died, especially if the time table which God set out for her had reached.
Eau said, "I know some would say why did she go for the trip, the secret of life is only known to God."
In his sermon, one of the officiating priest, who is the Bishop of Ogoja Diocese, Rev. Fr. Dr. Donatus Akpan, stated that great people usually die young, just as Jesus Christ, John the Baptist and several other great people had died.
The cleric said, "No one can escape death. Some would say why wouldn't she had live longer than she lived?"
In his sermon, the Bishop of Uyo Diocese, Rt. Rev. Dr. John Abebe Ayah, described late Amaka as a peaceful woman, who treated people with honour and showed no disdain to people who go close to her.
In his exaltation and words of consolation to Ndoma-Egba, drawn from the book of Ecclesiastics 12:17, Bishop Ayah stressed that as humans, no man can control death, but we can only control lives.
The 54-year-old late wife of the former Senate Leader, Amaka's body was finally interred in a masoleum at Our Lady of Queen of Peace Parish, Akparabong Village, Ikom Local Government Area of Cross River State, amidst tears and agony by family and friends.