…Seeks Staff's Cooperation
By Nsan Ndoma-Neji, Calabar
Newly appointed Cross River State Commissioner for Agriculture, Mr. Mfon Bassey, yesterday assumed duty, accompanied by 20 colleagues, at the state Ministry of Agriculture, following his recent appointment by the state governor, to oversee activities of the Agriculture Ministry.
He solicited for the cooperation of the staff of the ministry to enable him succeed in the task of lifting the Ministry of Agriculture to greater heights.
Mfon, who doubles as the current Commissioner for Environment, was appointed by the state governor, Prof Ben Ayade, to oversee the activities of the state Ministry of Agriculture, after the immediate past commissioner, Ntufam Okon Owuna, resigned to pursue his political ambition to become a law maker of the Cross River State House of Assembly in 2023.
Addressing members of staff of the Ministry of Agriculture at the ministry's Conference Room on Tuesday, during his interface with the ministry's staff, the newly appointed commissioner solicited for the cooperation and support of the staff so that they can both work as a team, as team work remains the surest way to achieve success.
He warned that his administration would not tolerate truancy and lawlessness of any kind, stressing that the ministry would not hesitate to sanction staff who errs.
Promising to run an open door policy, where opinions and staff input would be highly welcomed so long as the input would help in taking the ministry to higher pedestal, the new commissioner charged the staff to shun rumour mongering and all other deviant behaviors inimical to growth and dampening of staff morale, which according to him reduces productivity of staff.
He stressed that he likes everyone to be happy as he himself is a happy person, adding "Let the bond, unity and love for one another remain stronger than before. I want you to have good working relations with one another in a manner that you have never had it before.
"Your dedication to duty and contribution to the success of the Agriculture Ministry should be your major pre-occupation.
"This isnt for you and I but for our dear state and unborn children. By so doing, this would help the state governor, Prof Ben Ayade, who is so determined to finish strong, realize his heart's desire.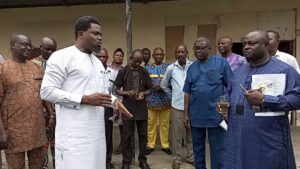 Mfon, who is also the current Environment Commissioner in Cross River State is saddled with the responsibility of overseing the state Ministry of Agriculture by the state governor.
Expressing gratitude to the state governor who found him worthy to oversee the Agriculture Ministry in addition to his job as Commissioner for Environment, Mfon assured the ministry's staff of his willingness to put in his very best for the sustainance and growth of the ministry, stressing that his arrival in the ministry was for value addition and to consolidate on the gains of his predecessor.
Earlier, the Permanent Secretary in the Ministry of Agriculture, Jacob Udida, commended the staff of the ministry for turning up enmass to give the newly appointed commissioner a rousing welcome, adding, "I am so encouraged with the turn out of staff to give the commissioner a rousing welcome."