By Nsan Ndoma-Neji, Calabar
All is now set by the Special Adviser, SA, to Governor Ben Ayade of Cross River State on Cocoa Development and Control, Dr. Oscar Ofuka, to establish a foundation in memory of his late elder sister, Bishop Dr. Nancy Idem Ikon, who Ofuka described as not only being a good sister, but a mother, who had nurtured him right from the age of five until he became a full fledged man.
Ofuka revealed this in a valedictory speech at the funeral service organized by Revival Valley Ministries International Cathedral of the Holy Ghost, at the West African Peoples Institution, WAPI, Diamond Hill, Calabar, in honor of late Bishop Ikon yesterday.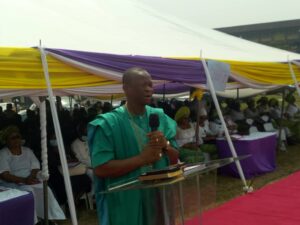 In a media chat with newsmen shortly after the body of his late elderly sister was interred at her husband's compound, also at Esien town, Calabar, Ofuka stated that the only way that the legacies/virtues of his late elder sister can be immortalized is by setting up a foundation for the poor; stressing that that had always been her late sister's wish, been before she finally departed to join her creator in the great beyond.
Describing his late elder sister as one person any right thinking individual would want to have, not just only as a sister, but a close associate and a mother who gave all her best in the vine yard of God and for the advancement of God's kingdom through out the period she spent on earth, Ofuka said, "The only way to keep her legacies is to organize people with like minds and establish a foundation that would immortalise her name.
"Plans are on the pipeline to get in touch with some trusted friends and some family members to put our resources together for the take off of Nancy Idem Ikon Foundation for the less privileged.
"I know it would cost us a fortune for the take off of the foundation, but then, nothing is going to be too much for this dream to be actualized. I already have some friends and family members, who are serious to give in their best for the take off of the project.
"In the last discussion that we had 35 minutes to her departure to join her creator, she told me that she had seen a big hand in the cloud, beckoning on her to come.
"It pained me to my marrow, but then who am I to question God? I just missed her."
He added that with the foundation, many would be lifted from the shackles of poverty, and several other social vices, like prostitution, cultism and criminalities associated with poverty, starvation and hunger.
He enthused, "We are going to use the foundation to touch many lives; with the foundation, many would be liberated, particularly in the rural communities of Etung and other local government areas known to have been volatile in the state due to poverty, hunger and starvation."
Earlier, General Overseer and founder Christian Central Chapel International, CCCI, Bishop Dr. Gospel Emmah Isong, who drew a biblical inference from the Book of Hebrew 12:18, said that God is the only author and legitimate finisher of all facets of life; even as he described the late Nancy Ikon as a mother, who impacted so much on the lives of many.
He said that life is like a book with pages, chapters, which comes in sizes.
Isong added, "Don't ever try to be in pages your enemies are or read other chapters of mine.
"Every book must have a reader and critic."
He added that God, who started good work in our lives would certainly end it well and described late Bishop Ikon as not just mother, but a woman of virtue.
The cleric admonished Christians to be of good behavior so as to leave a legacy behind to be remembered for when they are called by God.