By Nsan Ndoma-Neji, Calabar
The Bishop of Methodist Church Diocese of Atamunu, Calabar, also known as the Cathedral of Favour, Rt. Rev. Barr. Otuekong Ukut, Ph.D, on Tuesday donated educational materials worth millions of naira to two schools in Cross River State, saying that it's a way of making his contributions to national development.
The educational materials include books and several learning aides, donated to nursery and primary school pupils of Methodist School, Ikot Omin; and secondary school students of Susana Wesley School, Atamunu, Calabar, the Cross River State capital.
Speaking while distributing the learning and teaching aides to the beneficiary-pupils and students of Ikot Omin Methodist School, 8Miles Calabar, and others, Otuekong urged the beneficiaries of the learning aide to re-double their efforts so that they can graduate from their institutions in flying colours.
The cleric said, "I see great potentials in you people. In this midst, I see a lot of you who are going to grow up to become engineers, lawyers, doctors, and computer engineers.
"I see civil and computers engineers among you. I see a future. I charged you all to be serious with your academic work. Desist forthwith from telling lies, obey your teachers and parents, if you want to your dreams to be actualized.
"Tell your friends to be enrolled in Susana Wesley Schools. I charged you to be hardworking so that you can aspire to have eight degrees just like I have.
"Let me make it clear to you that if you work so hard with good behavior, and attain higher educational standards, all the good things of life, which you so desire are achievable without any hitch."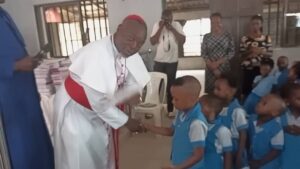 Responding on behalf of the two schools, the headteacher of Methodist School, Ikot Omin, 8Miles Calabar, Emem Johnson, who was in company of pupils and students of the school, expressed happiness over the educational materials donated to students of the institution by the cleric and prayed God to keep him alive and above all get his coast enlarged.
Johnson said, "This is something spectacular. We have seen this before where the bishop would create time from his very busy schedule to pay us a visit, check on us with gift items that tend to make our job easy.
"We are indeed so grateful and excited and proud to be associated with this clergyman. You are indeed a caring father.
"For showing us this token of love and concern to us, we pledged to reciprocate this kind gesture by re-doubling our effort for optimum result."
Also speaking, the Secretary of the Synod, Very Rev. Anthony Essien, stated that with the learning and teaching aides, the sky would be their limits.
He described Otuekong as "a scholar, philanthropist, and lover of education who once he enters a place he would do everything within his reach to turn around the fortunes of any establishment which he finds himself.