…Pledges 2m Votes For Abiodun, Tinubu
…Leads 10,000 Ogun East Youths Rally For Abiodun, Tinubu
An All Progressives Congress, APC, chieftain in Ogun State, Oluyemi Adesegun, popularly known as Adeland on Sunday declared that Governor Dapo Abiodun would be re-elected in 2023, with or without the support of his predecessor, Senator Ibikunle Amosun.
Recall that Amosun had openly endorsed the governorship candidate of the African Democratic Congress, ADC, Biyi Otegbeye, instead of Abiodun, who is running on the platform of APC, the party which the former governor also belongs to.
But Adesegun, who led thousands of APC youths at a rally in Ijebu Igbo, in Ijebu North Local Government Area of the state, said that Amosun's threat cannot deny Abiodun re-election.
The former aspirant for the House of Representatives noted that Abiodun had achieved so much in three years, but chose not to be a "noise maker."
He said, "No one asked him (Amosun) to work for Dapo Abiodun. With or without him, Dapo Abiodun will be reelected. His achievements will earn him reelection.
"Dapo Abiodun is not a noise maker. He is a silent achiever. He has done well and Ogun residents are ready to re-elect him next year."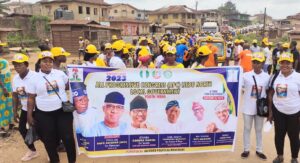 Expressing the readiness of the youths to deliver about two million votes for the APC presidential candidate, Bola Ahmed Tinubu and Governor Abiodun in next year's elections, Adesegun said, "From Ijebu North to other 19 local governments in Ogun State, I can assure you that we will deliver more than two million votes. All those who have never voted in the past elections, because of what Dapo Abiodun has done for us in Ijebu North, they are all ready to cast their votes for APC.
"All the youths in Ijebu Igbo have come out today for a rally in support of Governor Abiodun. He is a transformer and we have enjoyed a number of projects executed by his government in Ijebu North Local Government.
"Only in Ijebu North with three years, the governor has initiated about 82 projects. That is why we feel he deserves a second term and we have come out en mass to campaign for his reflection.
"Not only him, our presidential candidate, Asiwaju Bola Ahmed Tinubu deserves all our support to emerge President, because he is one of our own. He has done well in Lagos, where vast majority of Nigerians consider as second home, and he will do same at the federal level if given a chance."